Press & Media:

Public Awareness
Raising public awareness coupled with addressing emerging issues, advocacy, and action is essential to making an impact on protecting Canadian children and supporting families. Scroll through the timeline below to view some of C3P's public awareness efforts.
2023
The Horse
Today, more than 77% of children ages 9 – 17 have a smartphone, giving predators direct access to your kids. Relying on tech companies to do the right thing isn't working. We must regulate online platforms.
Demand Change
Unlike offline, where governments have rules and regulations for companies and spaces that service children, online guardrails simply do not exist. Support the urgent need for change – Canada needs regulations that protect children online in the same way we ensure their safety offline.
File Not Found
Teens should know where to turn if their sexual image has been shared. We can help. Report to Cybertip.ca.
Youth Are Being Targeted Online
Cybertip.ca witnessed a 36% increase in reports of online victimization of children from January – December 2021 to January – December 2022. Report to Cybertip.ca. We can help.
2022
The Power of Arachnid
The tool to help take down child sexual abuse material (CSAM) is in our hands. We just have to use it. This campaign highlights the importance of Project Arachnid and its work to help remove millions of images and videos of CSAM worldwide.
The Unwanted Film Festival
85 million films. 195 countries.

Playing online everywhere.

Stand with survivors and demand tech companies stop the upload of known child sexual abuse material.
For Now
When their intimate image is spread online, youth can feel like it will be there forever. In this campaign, Cybertip.ca reminds youth that their private images can be removed, and there is help available.
There is Help
Parents can feel directionless if they suspect someone is hurting their child online. This Cybertip.ca campaign emphasizes that parents are not alone and can be guided on how to best support their child.
Unwanted Followers
This chilling video tells the real story of countless victims whose abusive imagery continues to exist online. They have had to live this traumatic reality for decades due to platforms and services on the internet that have been allowed to operate without oversight.
2021
Twitter Birthday Plea
For Twitter's 15th birthday, C3P helped survivors – those who have been exploited on the platform and other social media sites like it – wish the company a "happy" birthday by sharing their experiences, and demand online platforms to do better for survivors by prioritizing the removal of CSAM.
We're Here to Help
When youth are faced with an intimate image or video being spread online, it can feel like they're all alone. With this campaign, Cybertip.ca reminded teens and young adults the tipline is here to help with regaining control and removal of the content.
Increase in Exploitation
Over the past year, Cybertip.ca saw an 106% rise in reports to the tipline surrounding online child exploitation, mainly due to the pandemic. This campaign not only drew the public's attention to this alarming increase, but also urged them to report concerning images or videos of minors to Cybertip.ca.
2020
Online Safety Starts with Conversations
This collaborative campaign with Tracia's Trust urged families to talk with their tweens and teens about the risks of online activities such as live streaming, online gaming, and live chatting.
Some Voices are Hard to Hear, But Should Be Heard
This campaign literally puts survivor's voices front and centre, using their direct quotes and audio statements to generate public awareness about this global issue, along with highlighting the support C3P offers.
What if it was Your Child's Photo?
Rather than targeting teens, this campaign focused on parents, and how they can talk to teens about the harm of sexting, both for themselves and the person in the image/video they're sharing.
2019
Lolli: The Exhibit Nobody Wants to Talk About
One exhibit. Three days. Over 1,200 visitors learned not only about the world's child sexual abuse material problem, a dark subject rarely discussed, but what Canada is doing about it.
Sexual attention towards a child is NEVER okay
A chilling campaign demonstrating how children are groomed online, and urging Canadians to report to Cybertip.ca if they see, read, or hear anything sexual from an adult towards a child.
Sharing someone else's sext is illegal
Back by popular demand, the animated phones in this campaign once again spread awareness of the legal consequences of sharing someone else's sext without their consent and offer help to people whose intimate image has been shared.
2018
Your nude is out there. Now what?
A campaign in collaboration with the Winnipeg Police Service encouraging young people to visit cybertip.ca/intimateimages for help if their intimate image has been shared.
Not Your Nudes? Not Yours to Share
An animated campaign highlighting the legal consequences of sharing someone else's sext without that person's consent, and directing users to visit cybertip.ca/sexting to learn more about the law, as well as how to gain back control if their intimate image has been shared.
Real Child, Real Abuse
A campaign reminding viewers that child sexual abuse material is never just a picture, and urging the public to report concerns to Cybertip.ca.
2017
Don't Get Sextorted, Send a Naked Mole Rat
A national campaign that takes a humour-based approach to cut through the clutter and focuses on ways youth can avoid being sextorted and keep themselves safe.
Project Arachnid
A national campaign promoting our automated web crawler and platform that helps reduce the online availability of child sexual abuse material around the world.
Non-Consensual Distribution of Intimate Images
A campaign building on our work with the issue of self/peer exploitation, to focus on how Cybertip.ca can help youth if they have experienced a sexting incident, as well as inform youth that sharing someone else's sext without that person's consent is illegal in Canada.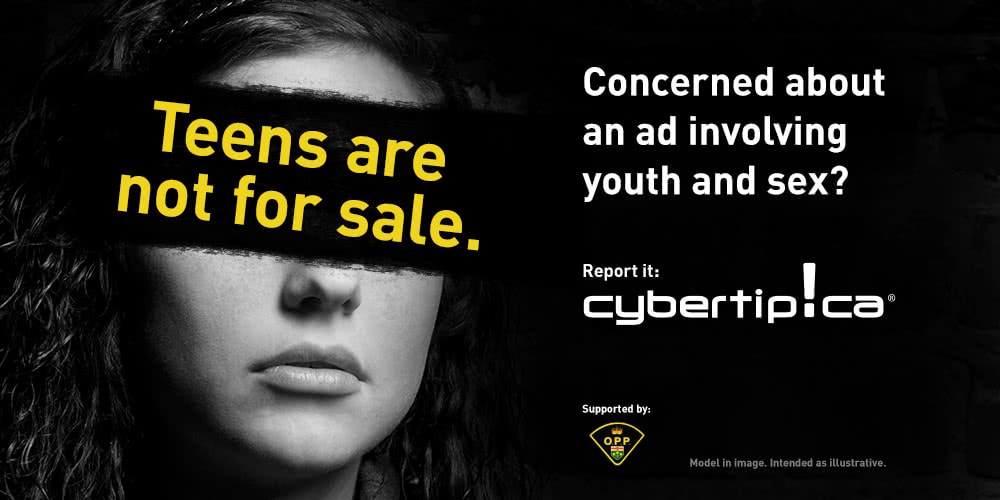 Teens are Not for Sale
A campaign in collaboration with the Ontario Provincial Police encouraging people in Ontario, and across Canada, to report child trafficking and child sexual exploitation to Cybertip.ca.
2016
#ChangeTheStory
A campaign empowering teens to take control of their own narrative and change how their story is being told when they have (or someone they know has) been negatively impacted by a self/peer exploitation incident.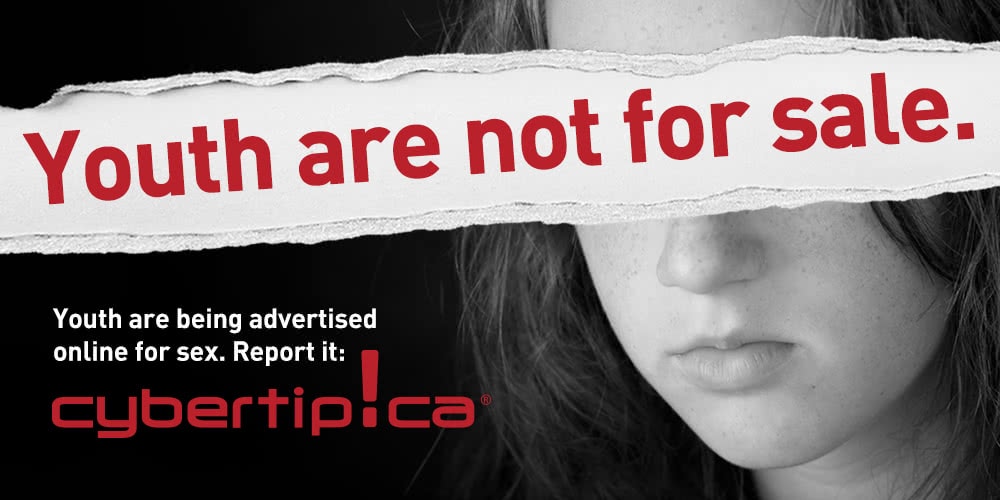 Youth Are Not for Sale
A campaign encouraging Canadians to report incidences of child trafficking and children exploited through commercial sexual exploitation online to Cybertip.ca.
Every Click Helps Us Protect Children from Sexual Abuse
A national campaign demonstrating how tips from Canadians can help protect children from sexual abuse.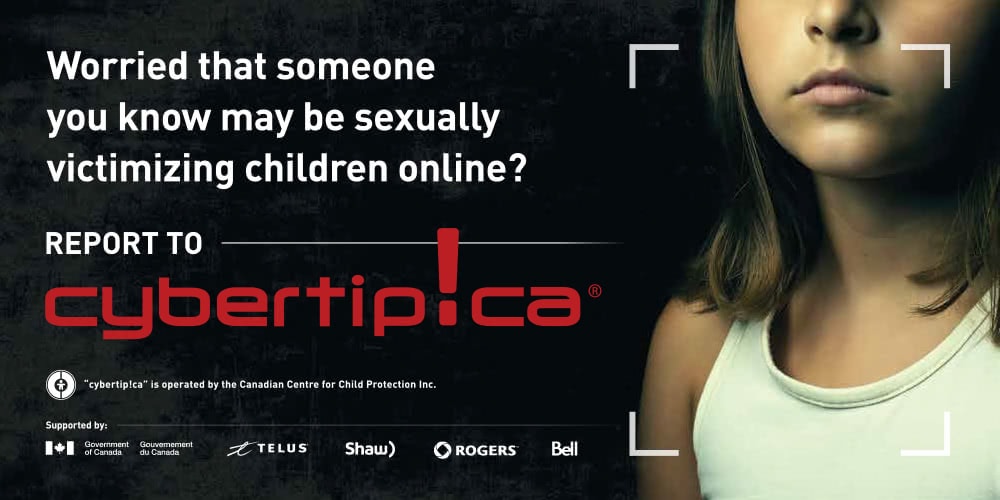 Worried That Someone You Know May be Sexually Victimizing Children Online?
A campaign pertaining to the mandatory reporting of child pornography in Manitoba that encourages Manitobans to report concerns to Cybertip.ca if someone they know may be victimizing a child(ren) online.
2015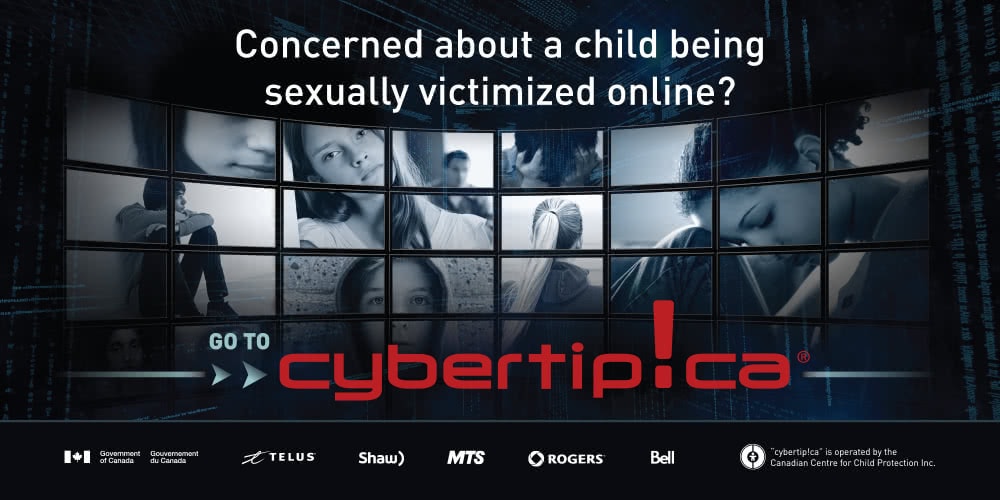 Concerned About A Child Being Sexually Victimized Online?
A national campaign encouraging concerned adults to report online child sexual victimization to Cybertip.ca.
2014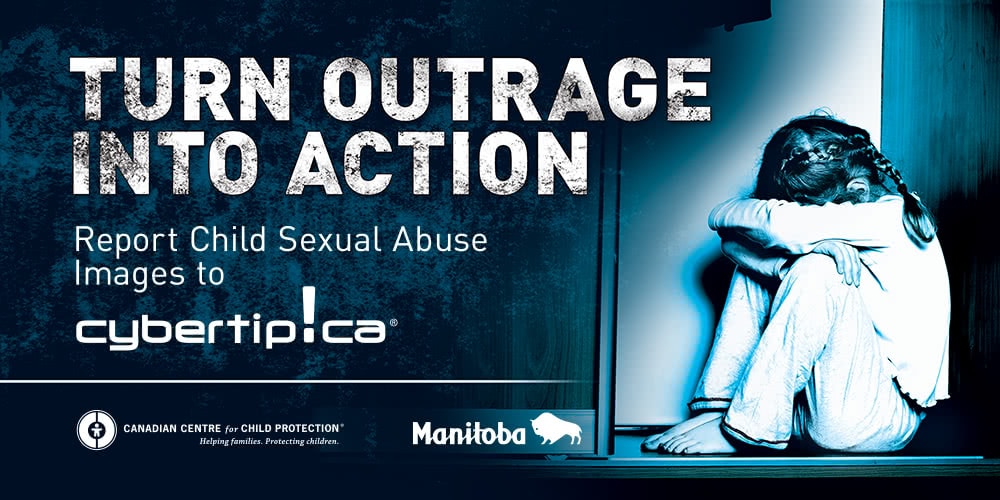 Turn Outrage into Action
A campaign tied to the mandatory reporting of child pornography in Manitoba that encourages the reporting of child sexual abuse images to Cybertip.ca.
Help Kids Achieve their Dreams
A campaign featuring RA Dickey of the Toronto Blue Jays that raises awareness of the Commit to Kids program and new resources for sport organizations.